Inogen One G5 Portable Oxygen Concentrator - 8 Cell
Details & Specs for Inogen One G5 Portable Oxygen Concentrator - 8 Cell

The Inogen One G5 delivers the independence of a portable oxygen concentrator in one of the most powerful, lightest and quietest units available to the oxygen user today. With flow settings 1-6, the Inogen G5 oxygen concentrator provides 24/7 customizable oxygen delivery in a strong, yet compact package.
With the Inogen One G5, you can experience renewed freedom, independence and mobility while receiving oxygen therapy. Because the Inogen G5 oxygen concentrator is so lightweight and compact, you can jump in the car to run errands or enjoy a weekend getaway, without the hassle of traditional oxygen tanks. You can even take the Inogen G5 oxygen concentrator on a plane to visit family or take a vacation since it meets FAA requirements.
The Inogen One G5 is your single solution for supplemental oxygen at home, on the go or while traveling, 24/7. It's oxygen therapy on your terms. Oxygen. Anytime. Anywhere.
Weight: 4.7 lbs
Dimensions: 7.19 × 3.26 × 8.15 in (Height includes single battery)
Oxygen Flow: Intelligent Delivery Technology® Six flow settings from 1-6
Power Settings: AC Power Supply 100-240V, 50-60Hz
System Includes:
One single battery
Concentrator
Standard 3-year warranty
AC/DC power supplies
Carry bag, user manual
Meets FAA requirements
Intelligent Delivery Technology®
Bluetooth System
Inogen Connect App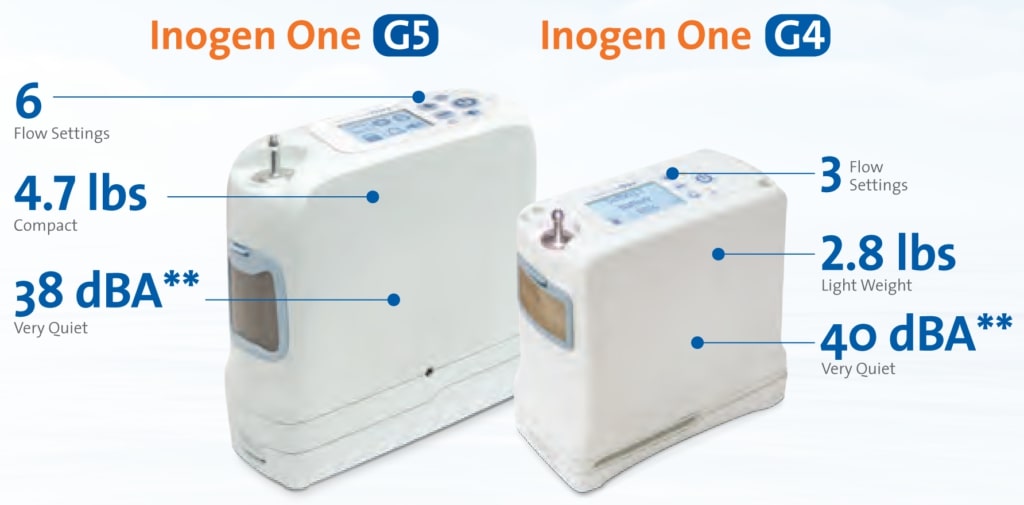 Documents & Videos for the Inogen One G5 Portable Oxygen Concentrator - 8 Cell