Motif Luna Double Electric Breast Pump
Motif Luna Double Electric Breast Pump
*Insurance Option is currently limited to participating insurances in Michigan, Ohio and Indiana. View more
Insurance Eligible
Free Shipping
Online Only
Details & Specs for Motif Luna Double Electric Breast Pump

* Insurance Option only currently available for qualifying insurances in Michigan, Ohio and Indiana.
Prescription is only required when using Insurance Upgrade option.
Ordering "Out-of-Pocket" will not require a prescription to be uploaded.
Sophisticated, strong, and soothing. The Luna is the powerful breast pump from Motif Medical, built for modern motherhood and proven to provide More Milk in Less Time®. With a battery-powered or non-battery version, the Luna is perfect for today's busy mom.
Perfect for pumping at home, at your desk, or in the car, the Luna has great functions, special features, and provides More Milk In Less Time® for today's busy, modern mom. On-the-go moms can now choose a rechargeable battery-powered version of the Luna or a desktop model. With a battery life of 2+ hours between charges, the battery-powered Luna is the perfect portable pump!
What's Included:
1 – Luna Breast Pump (Non-Battery or Battery-Powered)
2 – 24mm Breast Shields
2 – 28mm Breast Shields
2 – Valves
2 – Diaphragms
2 – Tubes
2 – Milk Collection Containers
2 – Milk Collection Container Caps
2 – Milk Collection Container Covers
2 – Milk Collection Container Disks
2 – Bottle Nipples
1 – Power Adapter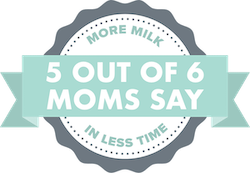 Documents & Videos for the Motif Luna Double Electric Breast Pump
Often bought with Motif Luna Double Electric Breast Pump